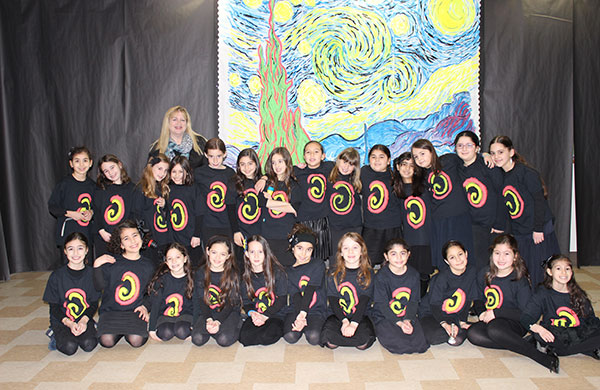 The halls and classrooms of Barkai Yeshivah were filled with a variety of activities, which kept attendees busy for hours during their 2nd Annual Art Fair.
Art Educators, Barbara Sakkal and Sara Weinstock Aranov, took great pride in showcasing the creative talents of the students, as works of art by every child in the school, from kindergarten through the 8th grade, were exhibited. The lower level was magically transformed into a sophisticated art gallery, where paintings and sculptures, prints and puppets came to life through the imagination of the children.
In addition to the gallery exhibit, there were many activities for both children and parents to enjoy  throughout the day.
Interactive art workshops in hat making, wire sculpture, and drawing to music were led by graduates of the Brooklyn College Masters Program in Art Education. The Community Mural had artists, young and old—children, parents, grandparents and staff—lined up to offer their contribution to a wall of patterned circles. Another community project, a group sculpture, grew and took form over the course of four hours, with children and adults cooperating with each other to build a construction out of cardboard.
Alex Aranov, wood carver and Judaica artist demonstrated his craft while chiseling mezuzot from various types of wood. Completed mezuzot were on display and available for purchase.
In addition to displaying work from the art program, the Art Fair featured performing arts, both dramatic and musical. A theater was set up with stadium seating for the audience to enjoy the performances. The first one, "Tableau Vivant," which means "living picture," brought to life The Starry Night  by Vincent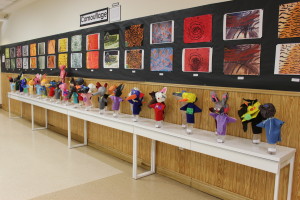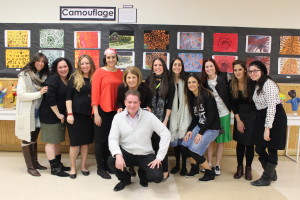 Van Gogh. The 3rd grade girls performed in glowing costumes against a glow-in-the-dark reproduction of the popular painting. The girls sang lyrics about the stars while performing a ribbon dance which mimicked the movement of the artist's energetic night sky. Barkai teachers, Deborah Schecter and Rachelle Sitt, wrote and directed the presentation.
The second performance was presented by the Barkai Concert Band, under the direction of Middle School Music Teacher Peter Hanson. The band which formed this year, was supported  by the Barkai PTA which provided the program with professional wind and percussion instruments.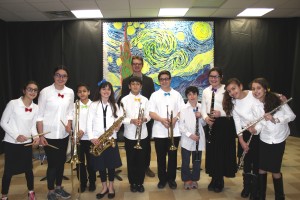 Peter Hanson made a second appearance with his jazz combo, which played smooth jazz in the gallery throughout the day.
A new attraction, the Shuka Truck was parked at the entrance to the school, serving Israeli style shakshuka. The food was so delicious and popular that it sold out before the end of the day.
The Art Fair, which requires a full year of planning, is a collaboration between the Art Program and the Barkai PTA. Co-chairs of the Event were Barbara Azizo, Director of the Arts Program, Aimee Bailey, President Elect of the PTA, and Susan Sorscher, Curator of the Art Gallery. The Fair reflects Barkai Yeshivah's strong commitment to the arts.