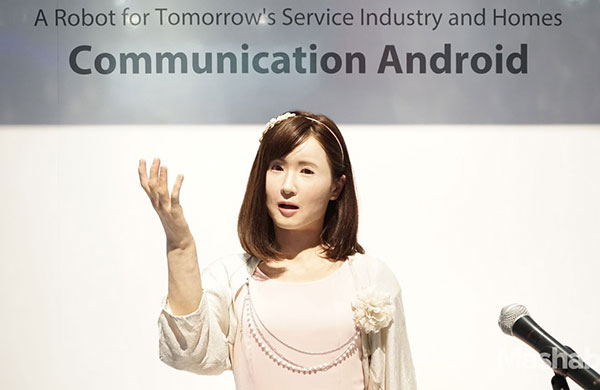 The "2015 International CES" was held in Las Vegas, U.S. between January 6 and 9, 2015. At the Toshiba booth, the communication robot "ChihiraAico" was exhibited. She was also in the news of major media outlets such as the NY Times and CNN as the face of this year's CES, gaining attention from all over the world.

In CES, she introduced herself in English to a large audience. All eyes were focused on her. "My name is ChihiraAico. Chihira represents earth and peace in Japanese. Aico is a combined word of the first syllables of 'idea' and 'communication,'" said she with hand gestures at the scheduled presentation using the aid of a monitor.
She also demonstrated her musical skills by singing, accompanied by a pianist on an electric piano.
During the course of the presentation, various emotions were displayed by facial expressions such as smiles, angry looks and sad faces.
With such realistic skin texture and eye movement, the communication robot "ChihiraAico" has a human-like countenance and is an endearing humanoid robot.
The robot market is expected to expand in fields such as welfare/healthcare, manufacturing, service industry, and entertainment.
Aiming for early realization of robots working at reception or information desks at exhibitions, Toshiba will integrate a wide range of technologies for sensors, voice synthesis, voice recognition, and robot mechanism control. It also plans to introduce robots to the welfare/healthcare industry in 2020 as companions for the elderly or patients with dementia, remote counselors, sign language communicators, elderly-minding robots or the like.
This robot was developed in cooperation with aLab Inc., Osaka University, Shibaura Institute of Technology and Shonan Institute of Technology.
Based on its expertise in industrial robotics, Toshiba developed an operation algorithm for multi-joint robots to realize smooth coordination of 43 actuators. Shibaura Institute of Technology and Shonan Institute of Technology provided the motion teaching technology enabled by the application of motion sensors and robot driving technologies, while aLab Inc. and Osaka University contributed to the technology for creating human-like countenances and facial expressions.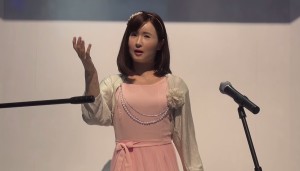 Combining all these technologies, we have succeeded in developing a life-like robot with its upper body moving in a natural way that was never possible before.