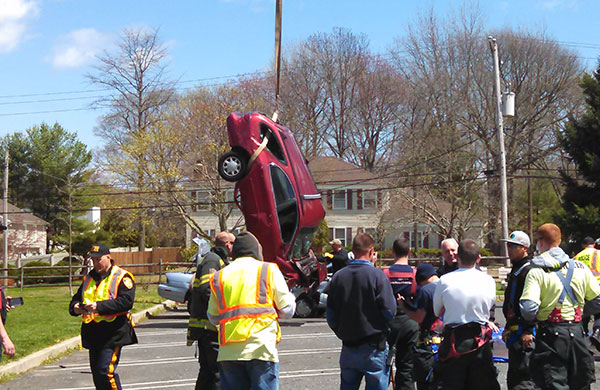 The Deal Test Site, also known as the Joe Palaia Park in Ocean Township,  New Jersey, is a peaceful place to walk, bike ride, and appreciate nature. So, when a multitude of fire fighters and fire engines, police officers and police cars, emergency responders and emergency vehicles; golf carts, close to 500 students from Hillel, Magen David, and Flatbush Yeshivahs and a crane dropping cars filled a section of the park for an anti-drinking and driving program, it was a rare spectacle, indeed.
The woman responsible for the commotion was Esther Tebele, mother of four Hillel graduates and a Hillel freshman. Eight years ago, she came across an article about a program called Rude Awakening and their spectacular full-day seminar that educated teens about the ramifications of drinking and driving. Esther wanted Hillel to participate in the program, so she contacted Police Officer Jim Roese, who has been running the Rude Awakening Program for over a decade.
Officer Roese launched this initiative after he was involved in a head-on collision with a drunk driver in 1993. Since that dreadful event, he has been passionate about educating people about the dangers of drunk driving.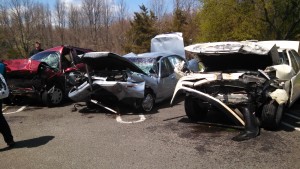 Esther proudly declared over the sounds of emergency vehicle sirens, "We've joined the program at other locations in the past, but this is the first year we hosted and invited the other community schools to participate. I am so glad we were able to do so!"
Throughout the field, students, wearing Fatal Vision Impairment Goggles that simulate different levels of intoxication, attempted to walk in straight lines, toss basketballs to dunk a police officer, and drive golf carts around bright orange cones. Trying to do these normally easy tasks, while impaired, emphasized how drinking alcohol compromises motor skills.
In addition to these interactive activities, presenters brought the horrors of drunk driving to a new reality for all in attendance. The Chief of Police, Steven Peters, introduced the program, followed by a representative from Traffic Safety. After this, a person from a drug intervention group spoke. The students then listened intently to Allison Wheeler, who lost her brother in a drunken driving accident in 2008.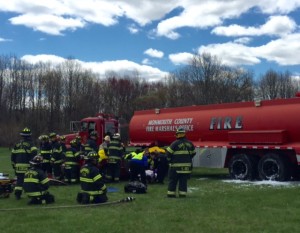 Last to speak was Molly Berkowitz, a trauma unit nurse, who exhibited the different procedures done and instruments used in an emergency room after a car accident. Each presenter inspired students to want to exercise more caution in the future.
Student Hailey Shalam learned that when you are a designated driver, others are trusting you and that lying about not having had a drink can have very grave consequences.
Then, just when things seemed like they could not get any more horrific, a large tanker and a car collided before our very eyes! A police officer narrated, as a multitude of emergency response personnel pulled up to tend to the scene. The small vehicle was cut open, accident victims (all student actors with gruesome makeup) were extracted, and ambulance doors were swung open to receive the injured.
For the finale, a bright yellow crane dropped four cars from different heights to illustrate how speed affects crashes. After each vehicle's demise, all in the crowd were invited to inspect the damage.
Everywhere one turned, students were talking about their experiences that day. Irving Hannon and his friend Robert Tobias were especially taken by their encounter with Charles Fleisher, a paraplegic who was paralyzed by a spinal cord injury due to a drunken driving accident, when he was just 18 years old.
Rabbi Howard Bald, Hillel's Head of School, said, "I cannot thank Mrs. Esther Tebele enough for introducing this program to Hillel seven years ago and ensuring that our school not only remains involved, but is a partner with Officer Jim Roese and the Rude Awakening Program. I am proud that we were able to partner this year with SAFE and invite our community schools to participate in this life-saving program."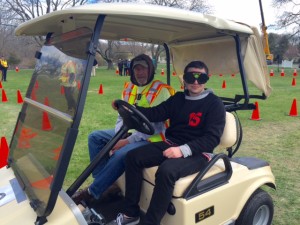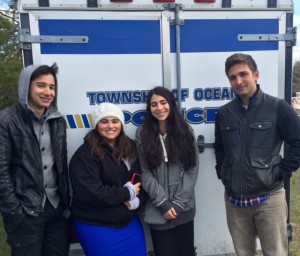 Associate Director of Project SAFE Yossi Sirote, said, "It was wonderful to be a part of this initiative and bring this fantastic program to more students in the community. The program is impressive with its multi-dimensional combination of very engaging speakers and interactive activities!"
Indeed, in 2006, Governor Corzine called Rude Awakening "the best of the best." In 2007, the program was named "the number one DWI program in the country."
Rabbi Joseph Beyda, Assistant Principal of The Yeshivah of Flatbush High School, said, "This program brought the perils of drunk driving to the attention of our students. They were, no doubt, left with a better understanding of the awesome responsibility one has when getting behind the wheel of a car."
Assistant Principal of Magen David Yeshivah High School Esther Tokayer, said, "The number of police officers and emergency service personnel who spent a whole day interacting with our students was extremely impressive. What was even more special were the speakers who shared their personal stories. I believe that these experiences will stay with our students for a long time."
Indeed, everyone recognized the significance of the day, as Magen David Yeshivah student Etti Chaaya expressed, "Rude Awakening was scarring—but it was a good scar—a very important scar."
If you or someone you know needs help, call SAFE's confidential, toll-free hotline, 24/7 at (866) 569-7233