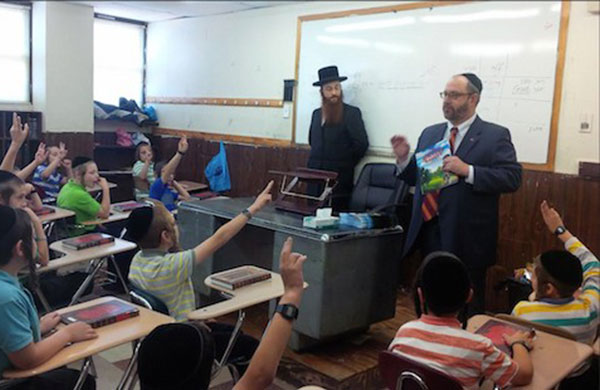 Senator Simcha Felder,  BINAH Stroke and Brain Injury Assistance,  Klein's Ice Cream House,
New York Police Department,  New York City Fire Department,  Hatzolah,
and Shomrim Team Up to Encourage Children to Wear Helmets While Riding Bikes
WHO:
Senator Simcha Felder
BINAH Stroke and Brain Injury Assistance
Klein's Ice Cream House
New York Police Department
New York City Fire Department
Hatzolah
Misaskim
Shomrim
WHAT:
Elected officials and local organizations
partner to create Sunday Safety Extravaganza
and teach children the importance of wearing a helmet while riding bikes.
Free ice cream will be handed out
to all children who wear a helmet while riding their bike.
WHERE:
Klein's Ice Cream House
2 Church Avenue
Brooklyn, NY 11218
WHEN:
Sunday, September 6th from 1:00pm to 4:00pm
WHY:
Recent reports found that Brooklyn's 66th Police Precinct is among the most dangerous places in New York City for bike riders.
In light of the worrisome findings, Senator Simcha Felder is launched a "Wear a Helmet" campaign
aimed at increasing bike safety and awareness in the community.
"I am deeply concerned that there are so many bicyclists being injured in my community," said Felder,
whose 17th Senate District covers the 66th Police Precinct.
"Thank G-d there are many active children in the community who love riding their bikes and having fun outdoors.
However, we must stress to our children the importance of being safe while also having fun.
Wearing a helmet is such an easy thing to do, and it is also required by law.
We should all work together to teach our children safety in a fun, enjoyable, way."
Throughout the month of August,
Senator Felder visited camps to speak to children about the importance of wearing their helmet while riding a bike.
He handed out activity books and answered questions from the children,
who showed great interest in learning more about bike safety.
Children who were either "caught" by the 66th precinct police officers wearing a helmet,
or who went in to a toy store in Borough Park and Flatbush with their helmet,
were given a coupon admitting them to the Sunday Safety Extravaganza.
At the Sunday event,
numerous local and city organizations will set up booths or vehicles to entertain the children and educate them about being safe while also having fun.
Klein's Ice Cream House will be handing out free ice cream and ices to any child who comes with a "Helmet Safety" Coupon.