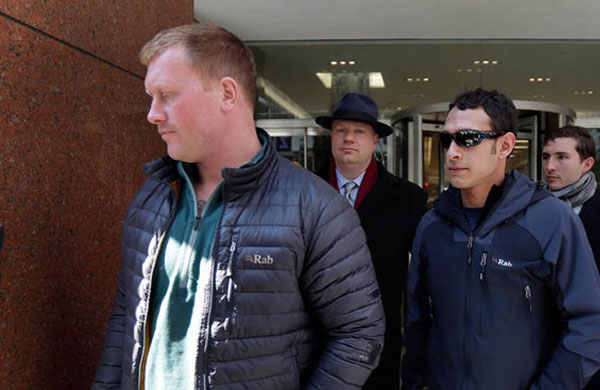 Two extreme-skydiving enthusiasts convicted of reckless endangerment, BASE jumping and other charges after parachuting off of the World Trade Center in September 2013 escaped jail time at their sentences as a judge determined incarceration and probation not to be appropriate punishments.
James Brady, 33, and Andrew Rossig, 34, were each sentenced to conditional discharge with a $2,000 fine Monday, about two months after they were found guilty of the misdemeanors. Brady and Rossig also got 250 and 200 hours of community service, respectively.
The third skydiver in the case, Marko Markovich, 28, will be sentenced Aug. 17. All three were acquitted of felony charges of burglary, the most serious offense, in early June.
At 3 a.m. on September 30, 2013, the men entered 1 World Trade Center and climbed up 104 flights of stairs to the tower's communication ring, Vance said. They then picked up equipment left by Brady, who worked as an iron worker at the construction site, and parachuted off of the building one by one.
The stunt, captured in a dramatic YouTube video, raised questions about security at the then-unfinished skyscraper.
At their sentencing Monday, prosecutors asked for at least 60 days in jail with three years of probation, saying their stunt could have killed a bystander. They said it took a "disturbing degree of forethought and planning," and that "at every step they knew what they were doing was wrong."
Manhattan prosecutors slammed the men for, as they described it, failing to acknowledge the danger of cost of their actions despite nearly two years of legal proceedings. They said they rolled out their videos of the jump in stages for self-promotion and celebrated their accomplishments, including posing for a full-page spread in Maxim in front of the tower and selling T-shirts lauding the jump.
The parachutists, who were arrested in March 2014 following a joint investigation between the Manhattan District Attorney's office, the NYPD and the Port Authority Police Department, said that they didn't imperil anyone and that the charges were overreaching by embarrassed authorities.
The judge previously said they created a "substantial risk" of injury to people below. At the sentencing Monday, the judge indicated that despite that risk and the major security breach, he could only sentence them according to the extent of the law.
A lawyer for Rossig and Brady apologized Monday on behalf of his clients and said prosecutors had been looking to trump up charges in their cases. When he started to talk about how exposing the security lapses at the World Trade Center was a public service, the judge warned him not to "go there" and said he found "that argument offensive."
Neither the governor nor the mayor could immediately be reached on the sentencing.
———————————————————————————————————–
FILE VIDEO of jumpers below