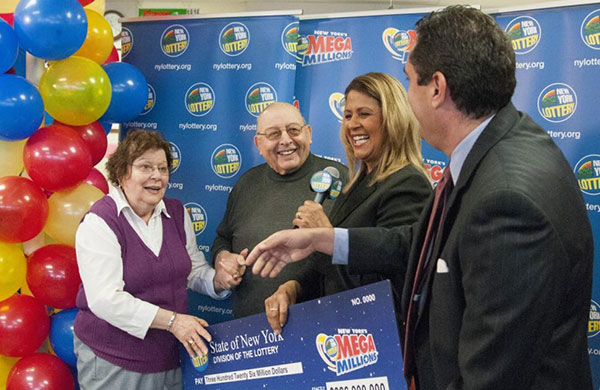 MIDDLETOWN, N.Y. (CBSNewYork) — A retired elementary school principal is New York's biggest jackpot winner.
Harold Diamond, 80, of Wurtsboro is the sole winner of the $326 million Mega Millions jackpot drawn on Nov. 4, lottery officials revealed Monday.
Diamond picked up his ceremonial check at the Valero gas station on Route 302 in Middletown, where he bought the winning ticket.
He credits his wife for their new fortune.
"My wife and I were driving to Middletown for dinner after voting on Election Day but the weather made us rethink our plans," Diamond said. "My wife insisted we stop here to eat and wait for the weather to clear, and I reluctantly agreed."
Diamond noticed a sign for the Mega Millions drawing and decided to spend $10 on 10 sets of Quick Pick numbers.
"I put the ticket in my wallet and forgot about it," Diamond said. "I went to play golf the next day and the guys in the clubhouse were talking about the jackpot-winning ticket someone bought at a Valero on Route 302 and I thought, wait a minute – I bought a ticket there last night!"
He is taking the lump sum payment of $197 million before taxes and will collect about $130 million after withholdings.
"I simply can't envision that kind of money," Diamond said. "It's very hard to fathom. We feel very blessed."
Diamond and his wife will now head to Hawaii to celebrate their 55th anniversary and then try to decide what to do with the money, 1010 WINS' Al Jones reported.
Lottery officials said preliminary plans include helping his family and giving back to the local community.