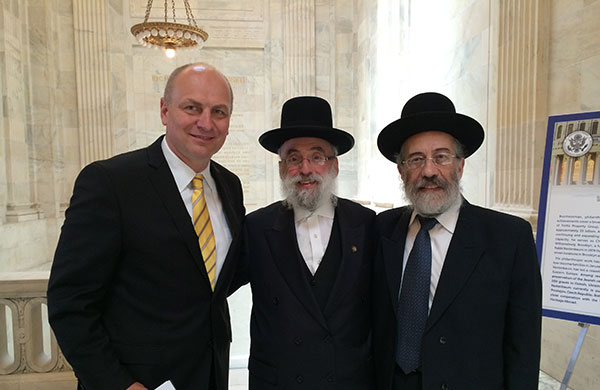 On Thursday, June 18, an elite group of Rabbinical leaders; Ambassador's of several European countries, representatives from the House and the Senate gathered in Washington in the magnificent Senate's Kennedy Caucus Room to celebrate the monumental accomplishments of the late Rabbi Zvi Kestenbaum.  Among the numerous life missions was to preserve and protect cemeteries and Synagogues throughout central and Eastern Europe, where his ancestors were buried.
When Rabbi Kestenbaum first began his herculean efforts to restore the cemeteries with Congressman Fred Richmond some 35 years ago. With the Rabbi's conviction he later convinced Congressman Steve Solarz who was representing the bulk of the Jewish community including Williamsburg, Boro Park and Flatbush to project & preserve Jewish cemeteries and religious sites abroad. Rabbi Shlomo Braun was at that time the Community representative and Mike Lewan was the chief of staff to Congressman Steven Solarz.
At the event, Mr. Lewan described the persistence how Rabbi Kestenbaum managed to convince Senator Kennedy to have the bill introduced in the Senate.  "I remember as if it were this morning, Solarz and Rabbi Kestenbaum and I walking over from the House side to this very building to meet with Senator Kennedy to convince him."  Lewan related that Solarz instructed Rabbi Kestenbaum, whose English was less than perfect, to remain silent while he spoke to Senator Kennedy, but his impassioned pleas failed to elicit the desired response from Kennedy. "I guess I could say that Kennedy was interested but not convinced," said Lewan.  http://www.vosizneias.com/206797/2015/06/19/washington-chasidic-jew-instrumental-in-preserving-european-cemeteries-honored-by-members-of-congress/
As the trio rose, Rabbi Kestenbaum took note of the many pictures of the Kennedy family that adorned the Senator's walls and despite Solarz's admonitions, addressed Kennedy himself.
"Just yesterday I visited Arlington cemetery and saw the magnificent graves of your brothers who are great American heroes and deserve the honor," said Rabbi Kestenbaum. "Don't all G-d's children deserve the same honor?"
Those words moved Kennedy who agreed to sponsor the bill, which was signed into law by President Ronald Reagan in 1985 who appointed Rabbi Kestenbaum as deputy chairman of the committee.
Rabbi Kestenbaum's efforts resulted in the drafting of a bill that would maintain these sites as a service to millions of American immigrants, giving them the ability to visit the graves of family members and connect with their ancestral roots.
Louis Kestenbaum, who continues his father's legacy and recently restored and preserved two Jewish cemeteries in Poland and the Ukraine and is currently pursuing the restoration of a Jewish cemetery in Czechoslovakia, accepted a plaque honoring both his work and that of his father to preserve American heritage abroad. To date Rabbi Kestenabum was instrumental in restoring over 50 cemeteries in Hungary, Poland, Romania, Russia, Czechoslovakia and Egypt
Louis Kestenbaum, son of Rabbi Zvi Kestenbaum shared with the audience how his father lost his entire family during World War II and felt that his life must have been spared to serve a particular purpose.
"There was nothing he could do to bring back the millions of lives that had been lost during the war, but their legacy, the cemeteries and holy places that had been destroyed this could be recovered, restored and preserved," said Louis Kestenbaum.  "He felt that it was his moral duty as a Jew to see that this was done."