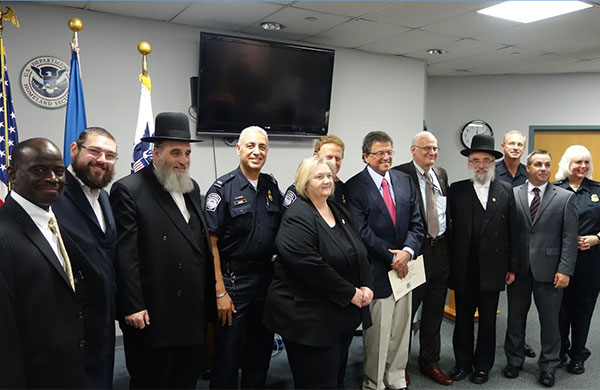 Close to 100 community, civil and government officials enjoyed a wonderful Lunch with great tasting ethnic foods at the Annual Jewish American Heritage Celebration held on June 19, at US CBP John F. Kennedy International Airport.  The event was named "An American Journey".
A very distinguished presentation took place at the event beginning with the Pledge of Allegiance by Marlen Calderon, CBP Officer followed by Welcoming remarks by Susan T. Mitchell, Port Director of JFK International Airport. A Proclamation from the US President Barrack H. Obama was read by Deputy Chief Officer Fred Skolnick.
Rabbi Shlomo Braun, representing NY State Senator Martin J. Golden stated that the day earlier, on June 18, he attended the 30th Anniversary Celebration in Washington DC for the establishment of the Commission for the Preservation of American Heritage Abroad.  At that event, Representative Debbie Wasserman Schulz took credit for sponsoring a bill in congress to allocate funds for Jewish Heritage Celebration Services in Government agencies to educate the non-Jewish population about the accomplishments and contributions of the Jewish people to society.
Guest Speaker for this event was New York's most popular TV weatherman, Mr. Irv Gikofsky, TV Meteorologist PIX 11 News, also known as Mr. G, who has been delivering forecasts on New York television for almost 40 years. Mr. G, began his career as a school teacher at Albert Einstein Intermediate School in The Bronx. While a teacher, he created New York City school system's first computerized weather program for use by children and their teachers. After teaching in public school for a decade, Mr. G was recruited right out of the classroom to become a TV weatherman at New York's WCBS-TV, Channel 2 in 1977.
He has won four Emmy Awards and an Edward R. Murrow Award. In 2008, Mike Wallace presented the Friar's Club Life Time Achievement Award to Mr. G. In addition, PIX News at ten has been named Best Newscast by numerous prestigious outlets including the New York State Associated Press Broadcasters Association and the New York Press Club. An ardent supporter of education, Mr. G is very involved in working with students. To date, he has visited over 500 schools, especially lower income districts, where he speaks in classrooms (not just about weather, but motivationally as well) and tries to visit at least one school per week when school is in session.
Every year since its inception, he has participated in New York City's "Principal For a Day" program, declaring that day "homework and test free" and always gets a standing ovation! In addition, June 30, 1993 was proclaimed "Mr. G day" in the Bronx for his motivational work with children. Mr. G is a board member for the r baby foundation and works to improve pediatric care in emergency rooms in the tri-state area.
Mr. G continues his series of lectures as "Professional in Residence" at his alma mater Hofstra University where he speaks on radio and television broadcasting. Mr. G was born in Brooklyn and raised in Queens where he attended P.S. 201 and J.H.S. 218. He graduated from Francis Lewis High School and went on to Hofstra University in Long Island where he earned a Bachelor of Arts degree in History in 1967. He received a Master of Arts degree in Secondary Education from Hofstra and pursued doctoral studies at Yeshiva University.
When his is not forecasting or involved in charitable endeavors, Mr. G can often be seen running in Central Park, and has run New York City Marathons many times. An avid runner, he has run over 60,000 miles or three times around the planet.
Closing remarks and Special presentation were delivered by Leonard H. Angevine, Assistant Director, Privacy and Diversity Officer. The Customs and Border Protection's  mission is America's frontline, who safeguards the American Homeland at and beyond our borders.  They protect the American public against terrorists and instruments of terror. They steadfastly enforce the laws of the United States while fostering the nation's economic security through lawful international trade and travel U.S. Customs and border protection at JFK serve the American public with vigilance, integrity and professionalism.
Many distinguished persons were at the event.  The Diversity and Inclusion Program Committee thanked all attending at the 2015 Jewish American Heritage Month Observance.