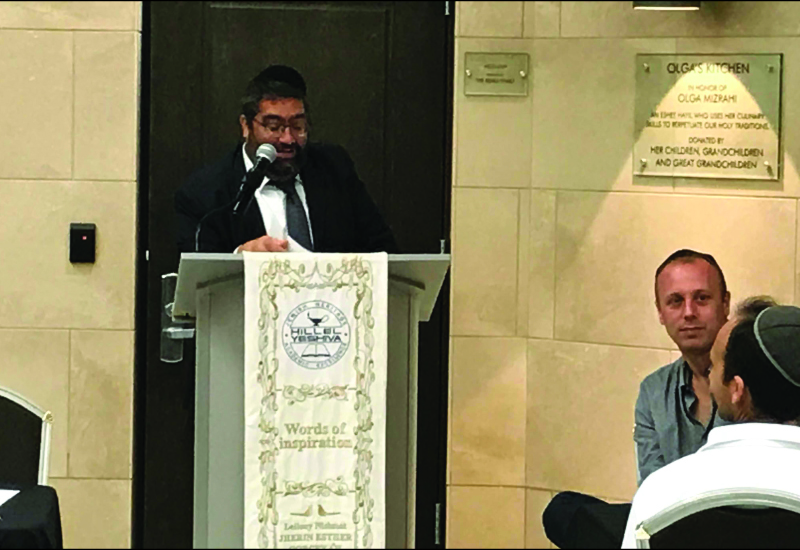 Hillel Yeshiva recently celebrated Rosh Hodesh Heshvan by emphasizing the significance of prayer in one's daily life. Together with their fathers and rabbis, the 5th grade boys spent a wonderful evening learning about this special topic. Rabbi Avi Bodlander introduced the program, "It is inspiring to see fathers and sons dedicating their evening to learning Torah together; such a beautiful way to begin the month of Heshvan!" After a delicious dinner, Founders Hall was filled with the enthusiastic and excited sounds of boys and fathers, heads bent, discussing the ideas presented in booklets specially prepared for the evening.
The men and boys discussed and analyzed the two types of prayer: universal prayers that sustain the continued existence of the world, and prayers applicable to specific circumstances like natural disasters and sickness. The group learned that in both types of prayers, it is important to be serious and understand the concept of G-d hearing us.
Rabbi Norman Cohen explored the topic further with questions such as whether it is a mitzvah to pray; and how many blessings there are in the Amidah. Later, he stated, "I'm proud to see fathers connect with their children, children connect with their fathers, rabbis connect with all the fathers, and all of us connect with our Torah."
Rabbi Leo Beyda, who compiled the study guide and organized the evening, was inspired by the atmosphere of learning in the room. He said, "May Hashem grant us the ability to understand the words of our prayers and answer them as well. Amen!
Rabbi Stephen Knapp, Principal of the ES/MS summarized the evening. "The atmosphere encapsulated everything that Hillel Yeshiva holds dear. Our students enjoyed a meaningful learning experience in the company of their devoted parents, and our warm rabbis. This program helps our students connect with the power of prayer."