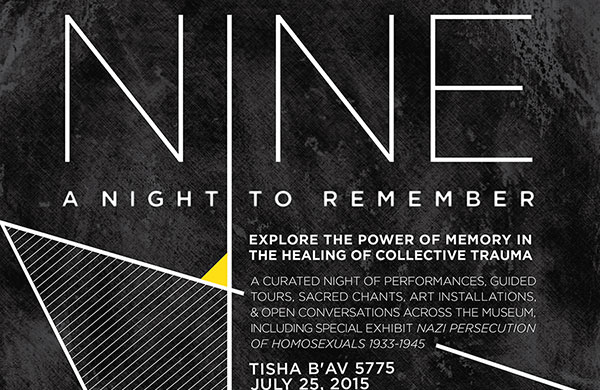 On July 25, be part of an exciting event co-sponsored by the Museum and Lab/Shul, called NINE: A Night to Remember. More than 500 people are expected for a night of innovative performances, discussions, gallery tours, and candlelit contemplation to mark Tisha B'Av, the commemoration of destruction, exile, and loss. To reserve your spot at this FREE event click here.
Only with the help of many volunteers can we ensure that this ambitious event will be a success. Volunteer opportunities for NINE: A Night to Remember begin at 6:30 P.M. To volunteer, please email Susanna Fried at sfried@mjhnyc.org, by Monday, July 20.
Tisha B'Av – The Ninth night of Av – is Judaism's annual commemoration of destruction, exile, persecution and loss. MJH and Lab/Shul invite you for a curated night of performances, guided tours, sacred music, lectures, candlelit contemplation space, and open conversations exploring the power of memory in the healing of collective trauma.
NINE will bring in an impressive list of partner organizations from across New York City, including Masha Gessen, Manny Cantor Center, LABA: A Laboratory for Jewish Culture and many more, filling the museum with programs about Jewish history, literature, liturgy and contemporary culture related to the fast of Tisha B'av, as well as focus on the legacy of loss in the LGBT community, including guided tours of select museum exhibits and programs focused on the exhibit Nazi Persecution of Homosexuals 1933-1945.
Doors open at 9:06pm
Programming from 9:30pm-12:00am
Location: Museum of Jewish Heritage
**Preceded by special "Lamentations on the Lawn" Eicha chanting and ritual with Lab/Shul directly behind the museum in the Robert F. Wagner Jr. Park, 7:30-9:00pm (map of exact location)
FREE
RSVP STRONGLY ENCOURAGED: RSVP Online or call 646-437-4202!