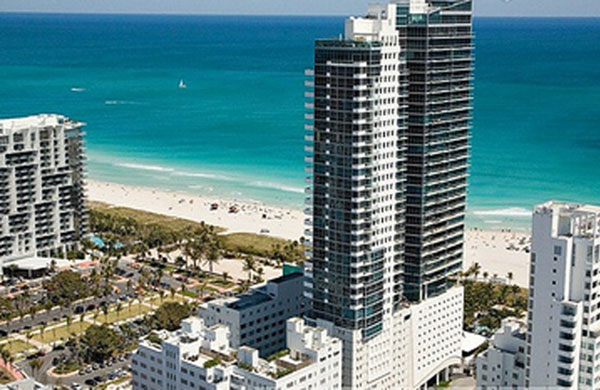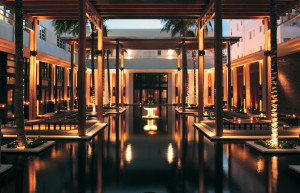 Founders of the Jordache jeans empire and owners of the Versace mansion, the Nakash brothers, purchased the Setai Hotel in South Beach. "The Setai is the crown jewel of Miami," said Jonathan Bennett, managing director of Nakash Holdings, the real estate division of Jordache Enterprises. "It is the epitome of luxury in that city. We've enjoyed spending time there and when it came up for sale, we knew it was something that would be a great fit for us. It's special and unique, and there's nothing else on the beach that can compete with it."
The Setai Hotel is located at the heart of South Beach, 2001 Collins Avenue
and was built in 1936-1938 as the Dempsey Vanderbilt Hotel.
It was voted Miami Beach's 2nd best hotel by readers of Conde Nast Traveler magazine in 2013.
Setai Hotel is known to host celebrities like Bill Clinton and Tom Cruise. (Since the Nakashes bought the Versace mansion, now "Casa Casuarina," they have hosted pop culture icons like Drake, the Kardashians and other stars.)
The 120 rooms and suites in the landmark Art Deco building and the 40-story tower will be owned and operated by Nakash Holdings. The average price of each unit is $750,000 per room making it one of the highest per-room sales ever in Miami Beach, Scott Brush, a Miami-based hotel consultant, said. The condominium units are privately owned but most can be rented via the hotel program. The Nakash family already owned 15 of the units prior to the sale.
This latest acquisition adds to their portfolio of hotels in Miami Beach. Nakash Holdings bought the former Versace mansion in an auction for $41.5 million. It owns the adjacent Victor Hotel  and other hotel property including Thompson Ocean Drive, Hotel Breakwater, Hotel Henrosa, Hotel Barcelona and Hotel Ocean.
"We are deeply interested in Miami. We've been investing in Miami for well over a decade if not decades,"Jonathan Bennett said. "In general, our real estate thesis is buying the best buildings on the best streets with the best tenants," he told Commercial Property Executive. "That's how we look at property regardless of the sector, regardless of whether it is hospitality, retail,office or multi-family. We're always looking to buy prime. We believe the best holds its value as well as appreciates faster,"Bennett concluded.
In June 2014, Ralph Nakash, one of the three brothers who founded Jordache, paid $7 million for a 3-bedroom home on Fifth Avenue in New York City.
Nakash Holdings manages a multi-billion dollar portfolio of investments including aviation, retail,agriculture,transportation, manufacturing and real estate located in prime locations throughout the world. The firm continues to aggressively pursue new opportunities in places that suit the portfolio investment strategy.