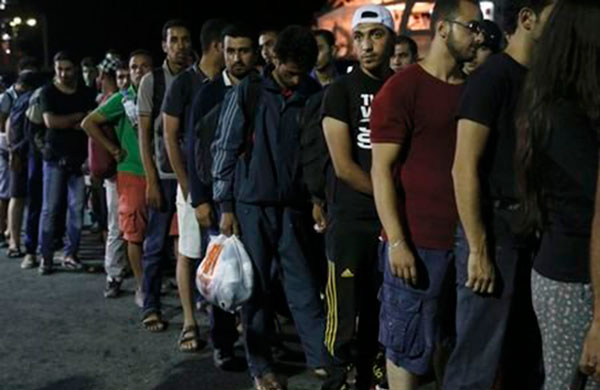 Syrian refugees line up before boarding the passenger ship Eleftherios Venizelos at the port on the Greek island …
In the wake of one the greatest challenges Europe is facing with millions of Syrians fleeing war and persecution, one country is taking matters into their own hands.
Thousands in Iceland responded on Facebook saying they'll welcome Syrians into their own homesafter their government capped refugee numbers at 50, The Independent reports.
On Sunday, Icelandic author, Bryndis Bjorgvinsdottir set up the Facebook group with an open letterto pressure the government to increase its intake of refugees.
By Tuesday morning, more than 11,000 families have offered their homes, food and clothes to the refugees, in a country with a population of around 330,000 inhabitants, The Independent reports.
"I think people have had enough of seeing news stories from the Mediterranean and refugee camps of dying people and they want something done now," Bjorgvinsdottir told Icelandic public television RUV, Metro reports.
In the letter to the country's minister of welfare, Bjorgvinsdottir urged the government to do more.
"Refugees are our future spouses, best friends, our next soul mate, the drummer in our children's band, our next colleague, Miss Iceland 2022, the carpenter who finally fixes our bathroom, the chef in the cafeteria, the fireman, the hacker and the television host," she wrote on the page.
"People who we'll never be able to say to: 'Your life is worth less than mine.'"
It appears Welfare Minister, Eyglo Hardardottir, heard the offers on Facebook and the government is now looking into increasing its refugee quota, The Telegraph reports.
"I have made it clear that I don't want to name a maximum figure," she said. "But we (will) explore every avenue available in welcoming more refugees."
The number of refugees coming into Europe is the highest it's been since the end of World War II, according to TIME. More than four million Syrians have now fled their home country and an additional 7.6 million are still displaced inside Syria.