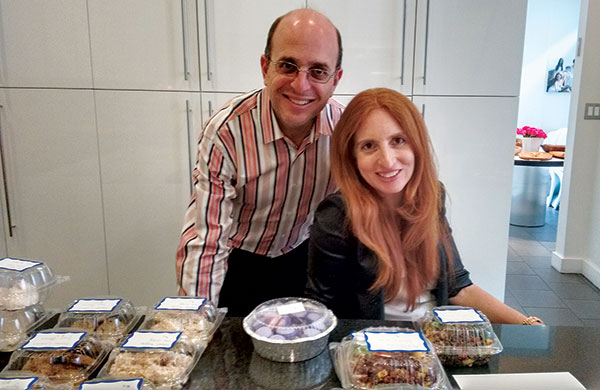 Betty and Morris Esses graciously opened their home for a Bake Sale and Chinese Auction to benefit Midreshet Eshel's Leadership Program. Their daughter, Nina, a Yeshivah of Flatbush graduate, recently completed the first year of this exclusive two-year program.
There were many activities throughout the opening evening and the following day. Ricky Cohen kicked off the event with an inspiring class for couples on "Building a Marriage of Love, Passion and Understanding," and Adele Chabot spoke about her book, "Israel: The Best Secret Revealed."
The next morning, Shirley Barnathan gave an informative demonstration on flower arranging. Mrs. Alouf gave a thought provoking class on "Ruth: The Paradigm of Hesed" followed by Esther Hidary's class on "Women and Judaism." Later in the day Rosette Setton taught participants how to make a Syrian treat—mouthwatering and delicious knafe.
Auction prizes included a stunning Shabbat table package imported from Emanuel in Israel, monogrammed dishes by Addy's, electronics, jewelry and more. The grand prize was two round-trip airline tickets to Israel!
All of the funds raised went to help sustain the important work Midreshet Eshel does on behalf of the young women of the community. It was heartwarming to see Midreshet Eshel alumni from the past six years at the event—some with babies in tow!
Founded by community member Miriam Tawil and Rabbi Yosef Benarroch, Midreshet Eshel is a Jewish women's post high school seminary in Israel that provides students with the opportunity to explore their rich Sephardic heritage and tradition in an exciting and innovative way.
Top candidates from community high schools are selected for the Women's Leadership Program which began in the fall of 2014.
"Students must demonstrate that they have the potential to be leaders," said Director Miriam Tawil. They must be highly motivated, self-starters, and goal oriented."
Students develop intellectually, spiritually, socially and personally. The school and dormitories are located in Jerusalem's Old City, in the heart of the Jewish Quarter. During the year, the students receive personalized leadership training, engage in intensive coursework, do extensive volunteering, and learn about Sephardic Heritage.
Two of the current four candidates, Camille Greenberg of Hillel Yeshiva and Raquel Sabbagh of Magen David Yeshivah, each spoke about the enriching experience of learning in the Old City two minutes away from the Kotel, the leaders they have learned from, the leadership skills they have acquired as well as the strength of overcoming the day to day challenges of life in a new country.
"This year has been the most adventure-packed, exciting and inspiring year of my life. I have learned and grown so much," said Nina.
This coming year, she will be completing Stage 2 of the Leadership Program. Nina and her classmates will be giving back to the community by mentoring high school students, being mentored themselves by community educators and lay leaders, organizing monthly classes for high school and college age students as well as innovate new programs to strengthen the community's youth.
Special thanks to all our sponsors and volunteers. We couldn't have done it without you!