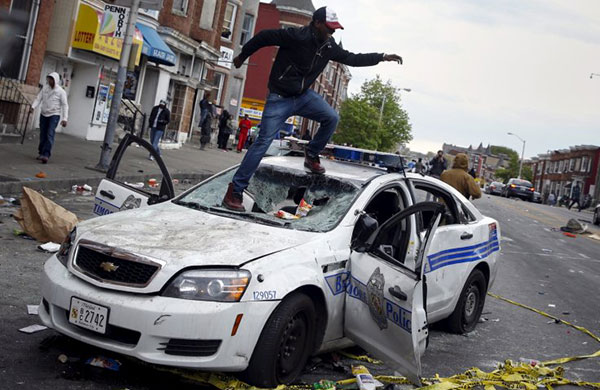 National Guard troops patrolled Baltimore after a black man's death in police custody set off riots, prompting officials to impose a curfew to prevent a second night of looting and violence.
Maryland Governor Larry Hogan ordered hundreds of troops and state police into the city after protesters attacked police with rocks and bricks and set cars and buildings on fire Monday. The violence erupted after the funeral of Freddie Gray, 25, who died on April 19 after suffering spinal-cord injuries while in police custody.
At least 20 officers were injured and 235 people were arrested, John Kowalczyk of the Baltimore police department told reporters Tuesday afternoon. He said a "tremendous" number of law-enforcement officials were being deployed.
"Everyone in Baltimore is looking forward to peace returning," he said during a televised press conference.
The riots follow protests in other cities such as Ferguson, Missouri, where blacks died in encounters with law enforcement.
The outbreak shut parts of the city Tuesday. Officials closed schools, while the U.S. government shuttered Social Security Administration and Centers for Medicare and Medicaid Services offices early. T. Rowe Price Group Inc. said it closed its Baltimore headquarters Tuesday, while Legg Mason Inc., also based in the city, is encouraging employees to work from home, spokeswoman Mary Athridge said by phone.
The violence Monday erupted when high school students gathered at the city's Mondawmin Mall, where they began throwing concrete blocks and rocks at officers, Baltimore police Commissioner Anthony Batts said. Television images showed looting at a check-cashing business and the destruction of a police vehicle in the city, which is about 40 miles (65 kilometers) northeast of Washington. Some 144 vehicles were burned.
Authorities had indications that gangs decided at a meeting on Sunday they would attempt to kill officers after Gray's funeral, Batts said.
"They said at the conclusion of Mr. Gray's funeral today each group was intending to kill and take out a police officer," he told reporters on Monday night.
Gray's sister, Fredericka Gray, condemned the rioting.
"I don't agree with the violence that they're doing to the city — it's too much," she told reporters. "I don't think that's for Freddie. I think they're doing violence for something else."
Curfew Instituted
Baltimore ordered a citywide curfew requiring residents to remain home between 10 p.m. and 5 a.m. Mayor Stephanie Rawlings-Blake said the restrictions would last for at least a week, and that juveniles were already subject to a curfew.
The Baltimore Orioles postponed their Tuesday game against the Chicago White Sox, after calling off the teams' Monday night contest because of the riots. The clubs plan to play a game on Wednesday afternoon in Baltimore that's closed to the public, according to a statement from the Orioles.
Oriole Park at Camden Yards is about 2 miles from a CVS store that was looted and then set ablaze. Police said rioters cut a hose that was being used to fight the fire.
"Too many people have spent generations building up this city for it to be destroyed by thugs who in a very senseless way are trying to tear down what so many have fought for," Rawlings-Blake said.
'No Excuse'
President Barack Obama denounced the violence while saying police departments must rebuild trust in their communities.
"There's no excuse for the kind of violence that we saw yesterday," Obama said at a White House news conference Tuesday. "It is counterproductive. When individuals get crowbars and start prying open doors to loot, they're not protesting, they're not making a statement. They're stealing."
"That is not a protest. That is not a statement. It's people — a handful of people taking advantage of the situation for their own purposes, and they need to be treated as criminals."
The Justice Department has opened a preliminary civil-rights inquiry into Gray's death, as the Obama administration scrutinizes law-enforcement practices nationwide.
Last month, the Justice Department criticized the civil-rights record of police in Ferguson after the fatal shooting of an unarmed black teenager by an officer in the St. Louis suburb.
Michael Brown's shooting on Aug. 9 and several other incidents across the U.S., including the death of an unarmed black man who was placed in a chokehold by a white New York City police officer, sparked widespread protests.
Six Baltimore police officers have been suspended as authorities investigate the circumstances of Gray's arrest and whether criminal charges are warranted.
Kowalczyk, the police department official, told reporters that protesters were holding a civil gathering on North Avenue near a pharmacy that was looted on Monday.
"That crowd is peaceful, and that's what we're used to seeing in Baltimore."