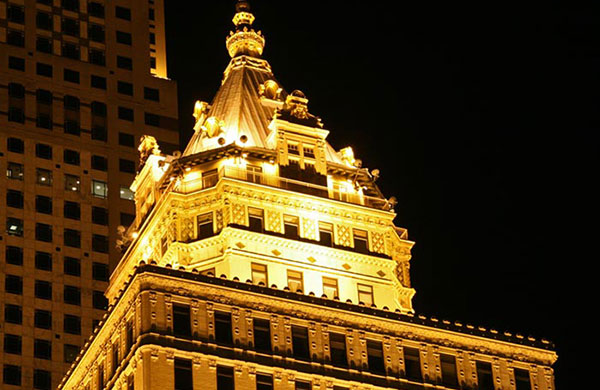 Before an auction had a chance to materialize, Jeff Sutton andd GGP signed a deal to purchase the regal landmark Crown building known for its gilded crown that lights up Manhattan's skyline. Former Governor Eliot Spitzer and David Winter, owners of the 25 story building at 730 Fifth Avenue, sold it for $1.75 billion, setting a new world record for the price of an office building, according to Real Capital Analytics.
The a deal was set after Crown Acquisition, led by Stanley Chera and Jeff Sutton, backed by GGP engaged in a bidding war starting at $1.5 billion. Finally, Sutton prevailed with the support of Chicago-based GGP buying the "crown" of midtown for $1.75 billion.
Chera, like Sutton, is a Syrian American Jew. Chera founded of Crown Acquisitions which is known for its investments in the Carlyle Group, Fulton Mall and the One World Trade Center. The New York Observer reported approximately 15 million square feet of real estate in New York owned by Chera in 2009 and his acquisitions have been increasing.
The Crown Building is at the corner of 57th Street, sharing crossroads with Bergdorf Goodman, LVMH and Tiffany on the other three corners. Sutton, also known as, the real estate master of retail, already owns neighboring buildings such as, 717 Fifth Avenue which houses the Armani flagship store; American Eagle Outfitter in Soho and Times Square and more.

The Spitzer and Winter families paid $93.6 million for the half emptied building in a court-ordered sale in 1991 from the Phillipine government. Secretly, the building was owned by Ferdinand and Imelda Marcos before a military-backed revolt overturned their regime.
This landmark beauty was designed in 1921 by Grand Central Terminal's architects Warren and Wetmore, and there are numerous terraces and views of Central Park. It was the original home of the Museum of Modern Art. Today it houses retail tenants such as,Bulgari, Mikimoto, Bank of America and Piaget.