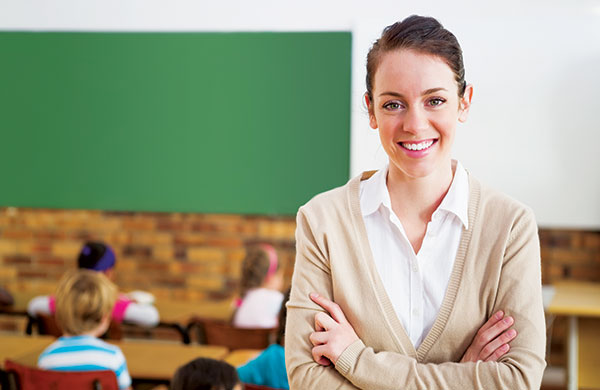 A new school year usually means a new teacher. Building a good relationship with him/her will enhance all communication you share throughout the school year. Here are some excellent ways to build that relationship.
Back to School Night is a ritual marking the beginning of a new school year and a valuable opportunity for you to learn important information about your child's classroom experience. Arrive with a friendly smile and introduce yourself. On this night, your child's teacher will explain her goals for the class. She will share information about her teaching style and methodology, how she grades papers, tests and homework and the requirements for a good grade. You'll find out what supplies your child will need for the year, what projects are coming up and the best way to reach the teacher, should you need to discuss your child.
Try to keep in mind that you will be meeting one teacher, but she will be meeting dozens of parents, so don't expect personal time. Bring a note card that lists your name and your spouse's name, phone numbers, email addresses, and a friendly note saying that you and your child are excited for the new school year. If you can't attend, mail the teacher a note or send it to school with your child. Let her know that you're interested in what you missed and you would like to meet her at her convenience.
Connecting with your child's teacher is the most important school related thing a parent can do. In order for this to happen, parent-teacher communication should be focused on the best interests of the child. When parents and teachers commit to that, a child feels better understood, which in turn results in better behavior and school success.
In elementary school, many teachers use the first 5 to 10 minutes of class to greet children personally and to set the tone for the day. Therefore, it is imperative that you get your child to school on time. Punctuality when they're young, sets kids up for success as adults.
There are some children (and adults) who are chronically late. This is a very bad habit to get into. Children begin to think that being on time (for all events) is optional. This can turn into a lifelong mind set and cause problems later in life.
"It is the supreme art of the teacher to awaken joy
in creative
expression and
knowledge."
Albert Einstein

Another way to build a good relationship with your child's teacher is to volunteer in your child's classroom. It shows your child that you're very interested in his education and it shows him and his teacher that you are a hands-on, Very involved parent. Even if you haven't been involved in the past, it's never too late to start. If you're not sure what you can do as a volunteer, just ask.
If volunteering isn't possible, stay in contact frequently. Ask what you can do to best help your child prepare for upcoming lessons or tests and follow through. If you find yourself with a vacation day, offer to chaperone a field trip.
If you notice that your child's grades are falling or changes in his behavior, don't wait to see what happens or if it stops on its own, call his teacher. Working together, you may be able to avert problems before they get complicated.
Older children should be aware of your interactions with his teacher. When teens are included in decisions and conversations that affect them directly, they feel an ownership and a responsibility for their progress. Open communication will help create a relationship where everyone is on the same page.
"I have come to believe that a great teacher is a great artist and that there are as few as there are any other great artists. Teaching might even be the greatest of the arts, since the medium is the human mind and spirit."
John Steinbeck

If the demands of class work are overwhelming your child, or family issues are disrupting his ability to concentrate, write his teacher a note to let her know what's going on and advocate for your child's interest. The more she knows about your child's home life, the more she'll be able to help your child learn and the happier you will all be.
"When we become a really mature, grown-up, wise society, we will put teachers at the center of the community, where they belong. We don't honor them enough, we don't pay them enough."
Charles Kuralt