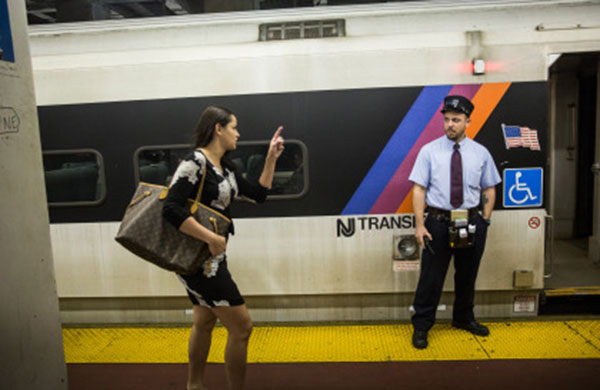 NEWARK, N.J. — Gov. Chris Christie met with state and federal transportation officials Tuesday to discuss plans to build a new rail tunnel under the Hudson River.
The meeting about the proposed Amtrak Gateway project at Sen. Cory Booker's office in Newark included the chairman of the Port Authority of New York and New Jersey, Transportation Secretary Anthony Foxx and U.S. Sen. Bob Menendez.
Christie, Foxx, Menendez and Booker issued a joint statement following the meeting:
Transit across the Hudson River carries an enormous and increasing share of this region's workforce and economy, and it is clear that something must be done, and done now, as commuters continue to endure serious daily challenges that come with an aging infrastructure.
We had a substantive and productive meeting today and all of us are committed to working together on a path forward on this critical project. Senator Booker, Senator Menendez, and Governor Christie will work with Secretary Foxx to obtain a substantial Federal grant contribution toward the Hudson River tunnels. In addition to grants, we will also work on other funding and financing options.
The state of New Jersey supports the Gateway project and is committed to developing a framework with the Federal government to begin it. We all recognize that the only way forward is equitable distribution of funding responsibility and the active participation of all parties.  As commuters can attest, we cannot afford further delay.
On Tuesday, when asked about this new tunnel project, which is critical to many commuters, his answer on camera was "I showed up today, didn't I?" Sloan reported.
Foxx invited Christie and New York Gov. Andrew Cuomo to meet with him after last month's electrical failures in the existing, 105-year-old tunnel caused several days of delays for NJ TRANSIT riders.
Cuomo didn't attend and said last week that it was premature to hold a meeting on the tunnel.
On Tuesday, however, Cuomo's office seemingly backtracked, saying they had not been invited to the meeting. They did not immediately respond when asked whether they would have sent a representative.
Later in the afternoon, Cuomo issued the following statement:
For the past several weeks there has been much discussion about building a new cross Hudson tunnel. I am excited by the dialogue, and I am encouraged by the positive statement issued following today's meeting held by Senator Booker for the New Jersey delegation and the federal government. It appears all parties are on the same page: the key to moving forward is obtaining federal grant support for the project.
Senator Schumer was correct last week when he called for the federal government to recognize the tunnel as a national priority and stated that the federal government must contribute the "maximum amount possible" to its construction.
I think we all recognize the need to make up for years of discussions that did not produce tangible forward progress. I believe deeply in the need for this country and my state and region to invest in new infrastructure to maintain our economic prowess, and I stand ready to expedite any and all state processes to move this project forward. We in New York have invested in major road reconstruction, undertaken the largest single bridge project in the country in decades with the Tappan Zee Bridge and announced the only total reconstruction of a major airport in the country today.
In the same vein, I strongly support the construction of the new Hudson River tunnel – and a federal grant package that makes the project viable is an essential first step.
Rail experts and Amtrak officials say that, while a new tunnel will improve reliability, it won't suddenly double the number of trains between New Jersey and New York. That's because the existing tunnel will be closed for repairs for a minimum of two years once a new one is built.
In addition, two new tracks will need to be added between New Jersey stations in Newark and Secaucus, where two currently exist. And, perhaps more critical, New York's Penn Station needs to be expanded to accommodate the increased traffic
.
"The tunnel work is like taking a two-lane highway and making it four-lane," said Drew Galloway, Amtrak's chief of planning and performance on the Northeast corridor. "But if it's bracketed by two-lane highways on both sides, you're not really increasing capacity."
On a tour of the tunnel and electrical system at Penn Station on Monday that included Amtrak officials and New Jersey Senate President Stephen Sweeney, the scope of the problem became more evident and not only because, as if on cue, a disabled train earlier in the morning had caused an hour's backup.
Inside the tunnel, the 80-year-old electrical cables sit inside walls that were inundated with saltwater from Superstorm Sandy in 2012. Because of the cables' age and configuration, it can take several days to locate the source of an electrical problem, Amtrak officials said. Fixing it is time-consuming and only a handful of companies are qualified to do the work.
Currently, Amtrak workers can perform routine maintenance in the tunnel only for a few hours overnight and on weekends when one of the tunnel's two tubes is routinely taken out of service, said Stephen Gardner, Amtrak's vice president of Northeast Corridor infrastructure investment
.
If a new tunnel is built, one tube at a time would be closed for a year to 18 months each for a complete overhaul.
"Such extensive demolition and reconstruction of the tunnel can only occur during a complete shutdown," Gardner said.
"There's a desire to focus on the tunnels first, and get them built, which creates redundancy but doesn't increase capacity," said Richard Barone, director of transportation programs for the Regional Plan Association, a research and advocacy
organization. "Then if you want to utilize the capacity of all four, you'd have to make more investment in Penn Station."
Some elements of the project already are in motion. For example, environmental and design work has been completed for a replacement for the 105-year-old Portal Bridge over the Hackensack River, a regular source of delays. And regulatory approval for Amtrak to address adding capacity on the tracks and in Penn Station, a process begun in 2012, could be completed sometime next year, Galloway said.
The rest will be dictated by when, and how much, funding is available.
"We're not asking for anything extraordinary; we're asking for something to correct the problem," Sweeney said Monday. "We can't put this forward as a matter of a wish list, we have to put it forward as a priority."\
U.S. Sen. Charles Schumer (D-NY) backs the project. He wants Amtrak, New York and New Jersey to team up with the federal government
and find a way to fund the tunnels.
"Amtrak can't access federal mass transit funding, the Port Authority and regional agencies can't access federal railroad dollars the way Amtrak can," he said earlier this month. "We only get Gateway done by adding up several pieces of financing with an eye toward getting the maximum amount possible from the federal government."
Schumer said the entire U.S. rail network between Washington and Boston could be disrupted and disabled if the project isn't built.