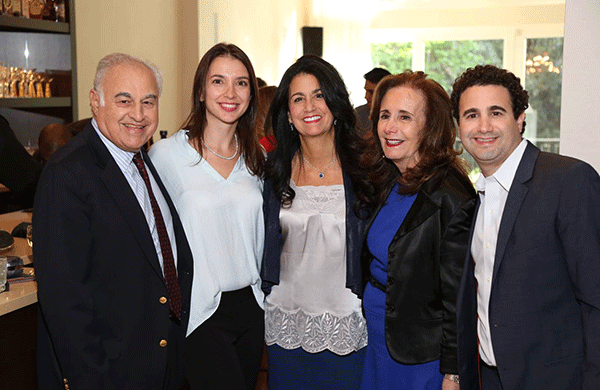 Propel Network Has the Answer
Many things in our world today are changing, especially a woman's role in the work force, which has become a focal point. Back when our grandparents and great-grandparents were in their 30's and 40's, it would have been virtually unheard of to hear "My wife is at work" or "My mom is in her office."
Our ancestors immigrated to this country with high hopes of a better life and a brighter future. They succeeded and adapted without losing the most important aspects of our culture and traditions.
Fast forward to the 21st century, when women in the work force have not only become the norm in America, but two incomes are essential if we want to sustain our way of life. In past decades, the father was the breadwinner and the mother raised the children. Today, America has become a dual-income society; making it seem not only the normal thing to do—but the right thing to do.
Our Community faces serious economic challenges every day, and they must be addressed. Thankfully, we have many charitable organizations to help families in financial distress. However, we need to focus on the underlying problem of why this is happening. The time has come to teach our Community members how to fish—not simply to feed them.
Consider the following scenarios:
• Like clockwork, Leon walks in at 8 pm from a hard day's work, like he has done every weekday for the last 16 years. Hugs and kisses await from his four beautiful children and his loving wife, Marie. Although Leon is all smiles, Marie cannot help but notice the sorrow in his eyes. Later, and with much pain and embarrassment, Leon confesses to Marie that he has been let go from his job. There are bills to pay and mouths to feed. Marie desperately feels she needs to help. But what can she do?
• Esther is a devoted mother who has dedicated her life to raising her children. She has been blessed with a beautiful life and good fortune. Her children are now married and although she is surrounded by comfort and wealth, she feels incomplete. She would like to work, feel productive, and be able to say she's earned her own money. But what can she do?
• Rachel and her husband Henry had been living within their means for the first several years of their marriage. Now they have three children in yeshivah, with another one on the way. Although Henry makes a nice salary, it's just not enough to cover additional expenses and treats, like an intercession getaway. If only Rachel had a marketable job skill and could make a few extra dollars working locally or from home. But what can she do?
• Josh complains that his wife Lisa brings nothing to the table. He feels she doesn't talk about anything other than how bad the traffic is and how much the price of meat has gone up. As much as she tries to bring up new topics, he has lost interest in what she has to say. A strain on their marriage has been building for years and Lisa's self-esteem has reached a low point. She yearns for a skill and to make something more of herself. But what can she do?
These are the women of our Community.
What Can They Do?
There is an answer—they can turn to Propel Network.
Propel Network is all about empowering women while helping them acquire a professionally certified career. Since opening just two months ago, Propel has already begun enrolling candidates in Culinary Arts, Life Coach, Bookkeeping, Concierge and many other certification programs. For those who need tuition assistance, Propel will fully or partially pay for all classes needed to achieve a professional certification and continue encouraging each career candidate until she enters the workforce.
Additionally, Propel is offering free computer classes from beginner to advanced, and basic English grammar and writing classes in order to prepare each student for her enrollment in a career certification program. It's a win-win for every woman in our Community!
This summer, Propel will be opening a satellite office in the Hillel Yeshiva High School for anyone who will be in New Jersey during the summer months. Please call (917) 821-1487 for more information or to make an appointment or visit Propel's website at www.ThePropelNetwork.org.
Propel Network's Co-Founders, Rebecca Harary and Ezra S. Ashkenazi, have long recognized the need to educate the women of our Community. Each woman is bright, hard-working, and has acquired the important skill of multi-tasking while raising a family. The women that are on the Board of Propel work and are raising families as well. They share passion as a common denominator. All successful in their own right, they feel their mission would be incomplete if they did not give back to so many women that can and want to do more. We all share the power to propel.
We invite you to learn more on July 21st, at our Summer Symposium, which will take place at the Jersey JCC from 12 – 4 pm. Admission is free. This event is for women who are looking for a supportive network and are considering what they can do to make a difference—it promises to be an extraordinary day.
Learning Leads to Earning. Propel Network is here to empower every woman in our Community!