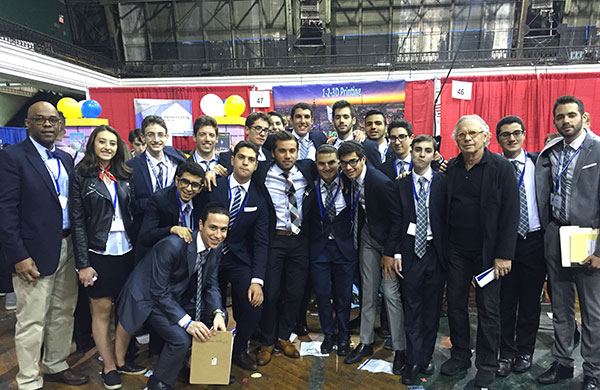 The future businessmen and women of the world are currently walking the halls of Magen David Yeshivah High School. Recently, the students from our Virtual Enterprises International (VEI) program, under the leadership of Professor Jasper, participated in the Youth Business Summit, a comprehensive, live business trade show in the New York City Armory in Manhattan. This international trade show is the signature event of VEI, and students from schools all over the world came together to demonstrate their skills and expertise in entrepreneurship, marketing and sales, computer technology, communication, and global business management. In a non-stop, frenzied competition, our students presented a booth in this trade show demonstrating their corporate structure, services, and products—all part of the virtual company that they have developed this year, 1-2-3D Printing.
Ten thousand people attended this all-day event, and various TV crews and media reporters were on hand to show the world the next generation's captains of industry. Our students made passionate sales presentations and business deals and left their competitors in the dust.  In fact, when the competition ended, our group had amassed over half a million dollars in virtual sales. To put this in perspective, many of the companies at the event attain sales in the $50,000 to $100,000 range, and we were told that a quarter of a million dollars in sales is an outstanding achievement. Kudos to our star businessman Michael Massry, who single-handedly generated over $100,000 in sales.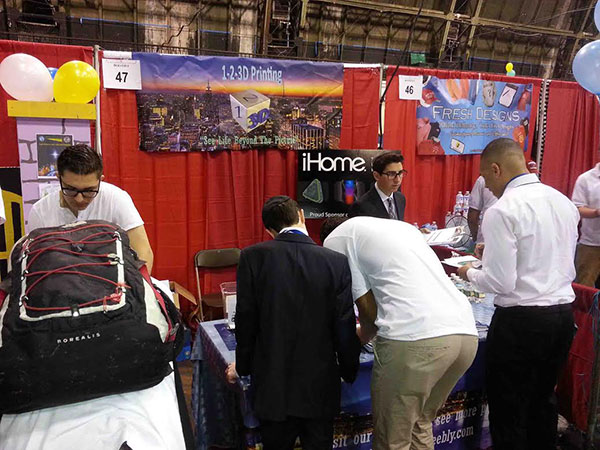 Co-CEO, Judy Chalouh, shared her experience. Suited up, sleek to the toe, holding business cards, brochures and invoice forms, 1-2-3D was ready to conquer. Months of preparations taught us well. Preparing for a trade show requires the skills and knowledge of how to clearly depict your brand. It's more than selling a product, it's selling yourself. When attending a trade show one must know the "Power Posture," which is when one opens up their body—not only do they divert more space—their confidence level gets a major boost. Studies conducted by Harvard Business School students, show that open postures manifest high power, whereas, closed postures manifest low power. The Power Posture of the employees of 1-2-3D helped them amass $569,750.
Before the event, we researched every company attending the trade show and contacted them in advance, to quicken the process of generating more sales in the allotted time. At the same time, we kept our eyes open for networking opportunities. Industry leaders haunt trade shows, and we had the opportunity to meet many distinguished people. We socialized, because the more connections you make, the higher the profit margin will be. It will also benefit you in the long run, for long-lasting business relationships.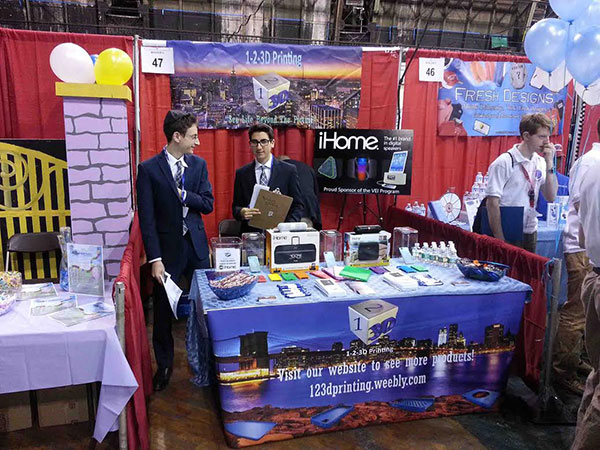 The Virtual Enterprise International Trade Show gave us the opportunity to showcase our products to the market. 1-2-3D produces environmentally recycled, 3D plastic cases for various electronic devices, such as smartphones, tablets, and computers and we used the most innovative technologies in the world, 3D printers. We achieved our mission by maintaining our financial stability and satisfying our customer's needs. A lot of work and dedication was put into creating an astonishing trade show booth which amazed many of the judges and coordinators. With 1-2-3D, we have truly turned our dreams into reality, and got to see what life looks like beyond high school!
This is just the beginning of what our students will amaze us with in the years to come! Starting in the fall, MDYHS will have a full four-year business department. We are eager to continue training the next generation of corporate leaders!  In fact, the DOE asked for our guidance in the development of their own high school business courses. The department will be headed by Professor Sterling Jasper, who is also a business professor at Baruch College. Now, our students will be fluent in the language of Business from as early as freshman year!
After writing this article, Magen David was informed that they won the trade show. Congratulations.q