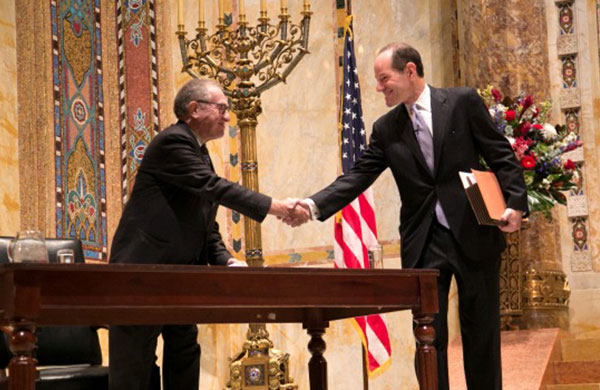 Harvard Law Professor Alan Dershowitz vs. Former N.Y. Gov. Eliot Spitzer in mock trial at Temple Emanuel on Fifth Avenue.
Abraham, preparing to sacrifice his son, is stopped by an angel.
Isaac's life was in peril when his dad, Abraham was ready to sacrifice him at the top of  Mount Moriah , following God's orders.  Lucky for them, God intervened to stop him.  This was God testing Abraham.  Did Abraham pass or fail? Was Abraham being an abusive parent or was it God's fault?
Last Sunday, the biblical patriarch Abraham was brought up on charges of endangerment and attempted murder of his son, Isaac, in a mock trial at Temple Emanu-El synagogue in NYC.
Eliot Spitzer,  the Plaintiff, lost the case to Alan Dershowitz,  Abraham's defendant.
U.S. District Judge Alison Nathan presided over this case.  High-profile defense attorney known for defending O.J. Simpson, Alan Dershowitz. represented Abraham and Former New York Gov. Eliot Spitzer led the prosecution.
Gady Levy, the new executive director of the synagogue's Skirball Center, which hosted the event understands that asking people to come to a Bible class would not draw many people.  However, bringing Torah in a way that is relevant to their lives will entice them.  At a time when congregations across the country are diminishing, the congregation's new senior rabbi, Joshua Davidson is looking to bring religion to their lives.  The temple sold approximately 1,300 tickets.  This is only part of Davidson's strategy to attract people.
This trial, was their highest-profile event, thus far.
"It accomplished what we wanted to do, be educational in a fun and relative way," Dr. Gad Levy said.
Abraham, represented by a lawyer thirsty for difficult cases and a jury who are proud descendants of him, had an edge.
Spitzer urged the jury to convict Abraham, saying the 'voice of God' is no defense to criminal behaviors.  Abraham had already endangered his first-born, Ishmael, when he sent him to wander in the desert after Isaac was born.  "We no longer have a civil society."  He added, "We have a theocracy…not here, not in the State of N.Y."
"We have had too much in too many parts of the world, acts justified by the mandate of God to permit those…commanded to determine what's acceptable under criminal laws.  Dershowitz argued, "If you believe in God, you must acquit!"
Dershowitz stated that Abraham and God were only playing "a game of theological checkers…He would never have plunged that knife!"  Furthermore, he argued, Abraham chose to drop it.
Dershowitz argued, "Better 10 guilt to go free than one innocent go to prison…And who do you think came up with that concept?" Dershowitz continued, "Abraham!"
Spitzer responded quoting from "a treatise written by a former professor of mine, whom I greatly admire: 'A contemporary Abraham would be convicted of attempted murder.'  The name of the author…is, not surprisingly, Alan Dershowitz."
The jurors supported Dershowitz's argument. On the 1st count of endangering the health of a child, 748 voted not guilty, 529 guilty.
On 2nd count of attempted murder, 687 voted not guilty, 590 guilty.
Judge Nathan and Spitzer headed back stage post-trial, Spitzer quipped, "If you really had a trial, who's testifying to these conversations "with God?  It would have been fun to call a couple of witnesses," he told her.
Meanwhile, Dershowitz, onstage, said he'd like to put God on trial.  "I would take the case on a contingency fee basis, guaranteed admission to heaven!"